Gift Idea: Crème de la Mer, Deluxe
The skincare brand offers a weighty jar of its luxe cream for the holidays.
November 14, 2011
Buying in bulk has never been more glamorous than with this Crème de la Mer Legendary Luxury Set ($1,650, 16.5 ounces). The set includes more than a pound of Crème de la Mer packaged in a limited-edition case with a silver-plated spatula. The cream's formula—primarily bio-fermented sea kelp—took twelve years to perfect and has a cult following that includes Madonna and Jennifer Lopez, who reportedly slather the cream over their entire bodies every night. Neiman Marcus, 5 Copley Place, 617-536-3660
—April Walloga
Cocktail to Try: Corpse Reviver
Soothe your soul with this classic gin and Lillet libation.
October 25, 2011

The Corpse Reviver #2
The Corpse Reviver is a classic cocktail named after its purpose: Revive the drinking dead. First invented at the turn of the twentieth century, the name was a general term used to describe what we would now refer to as a "hair of the dog," or a way to undo the damage from whatever you drank last night by having just a tad more.
Though several versions of this cocktail were being served for breakfast at local watering holes around the time of Prohibition, the one that endured was created by Harry Craddock, famous barman at The Savoy hotel in London.
This Corpse Reviver #2 recipe was printed in Craddock's 1930 classic drinks tome The Savoy Cocktail Book. The recipe was annotated with this warning: "Four taken in swift succession will un-revive the corpse again."
Despite its spooky name, the Corpse Reviver is enjoyable year-round. It maintains a nice balance of herbal gin, sweet oranges, tart lemon and floral, bitter Lillet punctuated with notes of anise. It is a perfect orchestra of flavors guaranteed to soothe a variety of souls.
Corpse Reviver #2
SERVES ONE
1 ounce gin
1 ounce Cointreau
1 ounce Lillet Blanc
1 ounce fresh lemon juice
1 dash absinthe or Pernod pastis
Add all ingredients into a shaker, shake well and strain into a chilled cocktail glass. Garnish with orange peel, if desired.
—Brandy Rand
Seasonal Craft Beers: Pumpkin, Spice and Everything Nice
Our recommendations for a sudsy sip of Autumn flavors, from pumpkin to pecan.
October 19, 2011
Fall in New England is a sensory experience—from the brilliant shades of Autumn leaves, to wafting wood smoke in the air, to the appearance of pumpkin in everything from coffee to ravioli. So it comes as no surprise that flavorful Fall beers are popping up all over town. Here are some favorites to try and buy this season.
Fisherman's Pumpkin Stout
Cape Ann Brewing Company, Massachusetts
A dark brew with hints of molasses, cinnamon and a slight pumpkin aroma. The flavor is roasted malt, almost chocolately with a dry finish, as is typical in stouts. 7% ABV
Pecan Harvest Ale
Abita Brewing Company, Louisiana
A unique twist on the state's famed pecan and its distinct caramel flavor are present in this medium-brown ale. With notes of bread and toffee on the nose it finishes with a mild, nutty aftertaste. 5% ABV
Great Pumpkin Ale
Cambridge Brewing Co., Massachusetts
Made with real pumpkin and spices, this lighter ale delivers mild pumpkin flavor and aromas of nutmeg and clove. 4.4% ABV
Autumn Ale
D.L. Geary Brewing Company, Maine
In the style of traditional English brown ale, this brew is roasty and toasty in smell and taste. Flavors are reminiscent of cocoa with earthy hops. 5.8% ABV
Octoberfest Ale
Wachusett Brewing Company, Massachusetts
This amber ale delivers straightforward seasonal notes, from nose to mouth, and delivers a crisp, clean balance of fruit, caramel and spice. 5.2% ABV
Imperial Pumpkin Ale
Wachusett Brewing Company, Massachusetts
A robust pumpkin pie taste with clove, cardamom, cinnamon and allspice shining through. Its higher alcohol percentage makes this ale a big beer that is best when shared. 8% ABV
Available at Blanchard's, 741 Centre St., Jamaica Plain, 617-522-9300; Charles Street Liquors, 143 Charles St., 617-523-5051; Downtown Wine & Spirits, 225 Elm St., Somerville, 617-625-7777; Gordon's Wines & Liquors, 894 Main St., Waltham, 781-893-6700; Julio's Liquors, 140 Turnpike Road, Westborough, 508-366-1942; Liquor World, 13 White St., Cambridge, 617-547-3110
—Brandy Rand
Ermenegildo Zegna Opens a Flagship in Boston
Copley place gets a new infusion of Italian style.
October 18, 2011
Luxe looks at the new Zegna flagship

Italian suiting powerhouse Ermenegildo Zegna closed its Newbury Street boutique in favor of a newly opened flagship at Copley Place. "Boston is a city alive with rich tradition, but it's also forward-thinking and youthful in spirit," Ermenegildo Zegna's president and CEO, Robert Aldrich, tells Boston Common. "At Copley we have found the perfect environment for our new modern store concept." To create a masculine and modern setting, architects Gianmaria and Roberto Beretta used raw materials such as natural woods and stone in the space. The store will carry the full range of the Zegna lifestyle, from the Sport line to the made-to-measure service, Su Misura. We love the latest collection of cashmere and fashionable outerwear. Copley Place, 617-424-9300; zegna.com
Style Cues from the Harvard Men's Polo Squad
Take your style inspiration this season from the team to beat in collegiate polo.
October 10, 2011
Polo is back in session this fall, bringing with it luxurious leather boots, pops of plaid (in Harvard crimson, of course) and tailored blazers. There is no better team to model the preppy New England look than the Harvard Men's Polo squad, along with its fashion-savvy fans, facing off against Yale on October 30. Clad in heeled riding boots and school jerseys, the Harvard polo team, led by captain Albany Mulholland, has picked up a reputation for dominating the field at Myopia Hunt Club on their four-legged teammates. The men's team went undefeated last season against Yale and looks to continue its winning streak this year. "The kids from both colleges all know each other, and they go out there and go to war," says Harvard coach Cissie Snow. "They really want to play well for their schools." But you don't have to play the field or even be a spectator to get cozy in fall's warm men's looks. Show your team allegiance in slightly heeled leather loafers, a soft knit shirt or a preppy tie.
By Jessica Laniewski
Rolex Pairs With Tiger Woods
See which Rolex watch Tiger Woods is wearing now.
October 07, 2011

The Rolex Oyster Perpetual Day-Date II ($34,750)

Since it is official that Tiger Woods is on board with Rolex now, here is a close-up look at the watch he currently wears. It is the 18k white gold, 41mm Oyster Perpetual Day-Date II with a fluted bezel. The 31- jewel chronometer movement keeps superlative time, and the watch is fitted with the famed Rolex President bracelet. It has a great look and feel—and is a step in a different direction for Woods.

Read more about watches from our timepiece editor Roberta Naas at atimelyperspective.com.
—Roberta Naas
Where to Sip Ginger Cocktails
The ginger root makes the leap from spice rack to cocktail glass at area watering holes.
October 07, 2011

Ginger Sidecar at BOKX 109
Used in everything from Asian cuisine to cookies, the multi-faceted ginger root also treats upset stomachs and the common cold. It's fragrant and distinct in flavor with a spicy, warming bite. And with cooler weather on the horizon, ginger is being incorporated a variety of ways in these Fall-inspired cocktails:
Taking a cue from a classic, BOKX 109's Ginger Sidecar (Pierre Ferrand Cognac, Domaine de Canton, squeezed lemon, simple syrup, ginger garnish) blends ginger liqueur with the subtle sweetness of cognac for a refined seasonal sipper. BOKX 109, 399 Grove St, Newton, 617-454-3399
The eclectic cocktail menu at Forum offers an array of palate-pleasers like the Bella Donna (Cruzan black strap rum, amaretto, orange juice, Barritts ginger beer, flamed orange peel twist), which tastes like an island vacation in a glass. Forum, 755 Boylston St., 857-991-1831
Grafton Street's Diana Morell uses fresh ginger root cooked in brown sugar and water to create richly caramelized ginger-infused sugar syrup for her Gin Gin Mule (house-made ginger simple syrup, gin, lime juice, Fever-Tree tonic water, mint). Grafton Street, 1230 Massachusetts Ave., Cambridge, 617-497-0400
A unique twist on dessert in a glass from Franklin Café is the Fresh Apple Martini (shochu, granny smith apple, ginger, lemon), which substitutes the typical vodka with a more flavorful Japanese liquor shochu (made from barley, sweet potato or rice). Franklin Cape Ann 118 Main St., Gloucester, 978-283-7888
Watch News: Omega Goes Green
Omega partners with environmental photographer and activist Yann Arthus-Bertrand on a new film.
September 29, 2011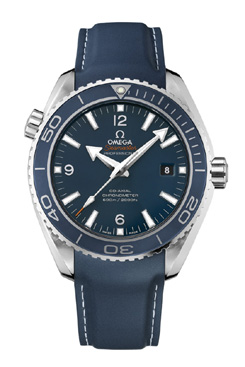 Omega has long been a friend of the space program. It is the watch that went to the moon; it is the watch that timed the re-entry in a near-fatal Apollo mission. The brand has also long been associated with the world's oceans. Its watches have gone on expeditions with Jacques-Yves Cousteau and the late Sir Peter Blake. Now Omega sets its sights on Earth, joining environmental activist and photographer Yann Arthus-Bertrand in the making of a film (set to debut in June 2012) called Planet Ocean, which will depict the natural beauty of the waters that cover two-thirds of the earth's surface. The first portion of that film comes in the form of some spectacular aerial photography by Arthus-Bertrand, which is currently on display in Shanghai at the Swatch Art Peace Hotel until October 23. The photos reflect a variety of natural habitats and expressions of life, as well as man's imprint on the environment, and the exhibit is designed to depict a "state of the planet" in this new millennium. Tourneau, Copley Place, 100 Huntington Ave., #D13, 617-267-8463

Read more about watches from our timepiece editor Roberta Naas at atimelyperspective.com.
—Roberta Naas
Perfect Pilot Watches
Bell & Ross unveils an impressive series of vintage pilot watches.
September 28, 2011
Vintage sport watches are all the rage this year, especially pilot watches. As such, it is no surprise that Bell & Ross—a master at vintage pilot watch designs—recently released an all-new collection that highlights the past in updated style.

The new Bell & Ross Vintage Wrist Watch 1 (WW1) series pays tribute to the first wrist watches worn by pilots in the early 1920s with large 45mm case diameter, wire-type lugs and bold yet clean dial appeal.

There are several models in the new collection, including a WW1 Grand Date, WW1 Reserve de Marche, WW1 Military, WW1 Heritage and a WW1 Pocket Watch. Each is fitted with a mechanical automatic movement, features an anti-reflective domed sapphire crystal and is water resistant for up to 50 meters.
The WW1-97 Reserve de Marche ($4,500) offers hours, minutes and seconds with a power reserve indicator. The galvanic black dial is accented with Arabic numerals at 3:00, 9:00 and 12:00 and stick indices. All numerals and hands are covered in a photo-luminescent coating for easy night readability.

There is also a WW1-92 Heritage watch ($3,700) with a striking blasted steel case with gray finish, a matte black dial with sand-colored numbers and a tan leather strap designed to achieve a patina. The dial of this watch (and the dial of the WW1 Military version) features an inner hour counter and an oversized outer minute counter for easy reading of the minutes. The collection should be in stores soon and is well worth a trip to see and touch, as the watches are stunning in their authenticity and design heritage.
Read more about watches from our timepiece editor Roberta Naas at atimelyperspective.com.
—Roberta Naas
Fine Rides at the Concours d' Elegance
Automobile enthusiasts flocked to Pebble Beach for the annual, invite-only collector car show.
August 24, 2011
Being at the Pebble Beach Concours d' Elegance—for any car lover—is like being in a very luxurious and wonderful dream. Thanks to an invitation from Rolex, I had the honor of visiting the 61st such event this weekend—in celebration of the 125th anniversary of the automobile.
Held on the famed 18th fairway of Pebble Beach Golf Links, the event is an invitation-only affair that brings together hundreds of the world's most prized collector cars in one of the most exclusive and competitive events. Magnificently Restored and untouched preserved automobiles from the turn of the century and throughout the decades come together in all their glory in what is a breathtaking and mind-boggling experience. I spent hours on the Concours devouring the sites—wooden wheels of yesteryear in cars dating back to 1914, hood ornaments that leave one marveling at their very intricate detailing and intake manifolds and outer accents finished in golden hues.
From Duesnbergs to Stutz's (which celebrates its 100 year anniversary), Edwardian-era Rolls-Royce's , Packards, and the finest Ferrari 250 GTO's (the automobiles produced from 1962 to 1964 that marked the culmination of Enzo Ferrari's efforts to perfect this line), the Concours d' Elegance recalls the glamour and growth that classic automobiles and fine racing vehicles brought to reality. If one can't fulfill a passion for the architectural lines of the roadsters, grand touring and motorsports here, it probably won't happen anywhere.
This year's Best of Show Winner: A quite alluring 1934 Voisin C-25 Aerodyne owned by Peter Mullin (owner of many vintage autos) and an entry in the 1932-1937 European Classic category. My Best of Show Pick: While I loved the Winner, the interior didn't do the trick for me. I'm afraid I was a bit more staid. I loved a couple of the American Classics, including a light yellow 1934 Packard, the owner of which happened to be a friend of famed car restorer Wayne Carini, whom I met him at the show– but watch for more coming about and from Carini soon enough here at Atimelyperspective. Watch for more coverage here, too, of the Rolex Monterey Motorsports Reunion at Mazda Seca Raceway in the coming days.
Read more about watches from our timepiece editor Roberta Naas at atimelyperspective.com.
—Roberta Naas